Cultural Differences
One of the more interesting aspects of living in or marrying into another culture is to observe how that culture handles ordinary tasks in an entirely different way from what I had learned growing up in the States. I thought I'd list a few I had seen and see if anyone else can contribute their own. I'd like to hear from every cross cultural combination and from both the Chinese and non-Chinese viewpoints.
Shortly after I married, I couldn't help but notice that when my wife would fold my socks, she did it in a totally different way from what I had ever observed. I had seen two ways to "bundle" socks, either to lay one on top of another and fold then in half (not too secure)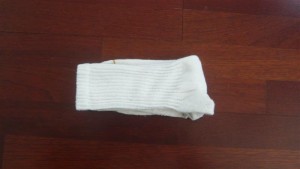 …or to lay one over another and turn them inside out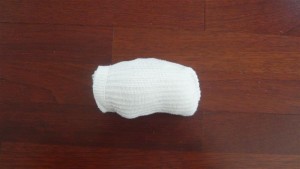 …but until that day, I had never before seen socks tied in a knot like a pretzel.
Clever! And also very practical. But completely unknown to me. I thought to myself, "Hmm… what other surprises does she have up her sleeve?"
Some weeks later, we were going somewhere or other and being that we never wear shoes in the house (another difference from most Americans but a custom that I've noticed more and more Californians adopting, even those who are not Asian), we were both putting on our sneakers in the garage. The knot I tie my shoelaces with and the only knot I had ever seen is to make a figure eight, then a loop, circle the loop and pull through the opening. So I look over as my wife makes TWO loops does a quick move and shazam, her shoelaces are tied faster than mine but the knot looks exactly the same.
My wife is 5'4" (163 cm) tall so about average height. One day in the kitchen I noticed her getting a bowl off the top shelf of a cabinet, not by reaching up or using a chair, but by using a chopstick to tip it into her hand, which was too low to grab it directly. She did this effortlessly while talking to me and again, I thought how clever it was since I had only considered chopsticks as utensils before that time. It seemed I had married a true existentialist!
Another cultural difference I noticed in restaurants there was that instead of the napkin being placed on my lap, the diagonal end would go under my plate and then the napkin would drape from there into my lap. That made a lot more sense to me than our conventional method, since it was more likely to catch anything that dropped on the way from the plate to my mouth.
On a different note, I noticed in China that much of the social life was based around work colleagues and that people who changed jobs usually allowed their previous friendships to wither while spending more time with their new colleagues. The exceptions seemed to be with old school friends who stayed friends for life. Though this pattern exists in other countries, it seemed stronger to me in China than in the west.
One cultural aspect I found very refreshing in China was the lack of a guilt complex. I run into this all the time in the west but never in Asia. However, there was potentially a far more pronounced sense of shame that didn't exist in the States. For instance, I would never see a show like Jerry Springer's in China; no one would ever air their dirty laundry in public like that. That's probably more of an American than a western phenomenon since I remember Michael Palin (former Monty Python member)  in his travelogue "Around the World in 80 Days" remarking that Americans who he had just met would proceed to tell him their life stories, including rather intimate details.
Once I saw a girl on a moped lose control around a curve and wipe out. Though many people were near her, not one bothered to see if she were OK. I ran to her to make sure she wasn't hurt and she thought I was crazy! I just chalked it up to another cultural difference.
These are just a few that I can think of off the top of my head. The first travel advice I ever received (and damn good advice at that!) was to never compare cultures or I'd be disappointed and would not be able to experience the true nature of where I was visiting. I've always embraced that advice and have never been disappointed by anywhere I've ever been, yet I find that I have adapted certain behaviors that just made a lot of sense to me.
Here is a graph on found on this website that listed some differences between Chinese and Americans:
SOME GENERAL DIFFERENCES BETWEEN CHINESE AND AMERICAN CULTURES
Major inspiration for this chart comes from the Li Qing presentation listed in the References. Another important source was the Aguilar and Stokes publication, also listed in the References.
Chinese

Americans

Conception Of the Self
Collectivist: Higher value placed on group cooperation and individual modesty.
Individualist:  Higher value placed on self-reliance.  Self-promotion is more accepted. High value placed on "freedom" from externally imposed constraints.
Social Relationships
Formal, hierarchical. People most comfortable in the presence of a hierarchy in which they know their position and the customs/rules for behavior in the situation.
Informal, egalitarian. People most comfortable with their social equals; importance of social rankings minimized.
Friendship
Small number of close, lifelong friends who feel deeply obligated to give each other whatever help might seem required.
Large collection of "friends" and acquaintances which changes over time and involves only limited mutual obligations.
Obligation
Relationships with other people involve reciprocal obligations.
People avoid interdependent relationships and situations that might entail long-term obligations.
Task vs. Relationship Orientation
Relationship-oriented:  Maintaining a harmonious relationship has priority over accomplishing tasks.
Task-oriented.  Relationships are less important than getting the work done.
Harmony vs.
"Truth"
Avoid direct confrontation, open criticism, and controversial topics.  Concern maintaining harmony and with "face."
Willing to confront directly, criticize, discuss controversial topics, press personal opinions about what they consider "the truth.  Little concern with "face."
Role of laws, rules, and regulations
More faith in personal relationships than in written rules and procedures for structuring interactions.
Written rules presumably apply to everyone and are assumed to produce fair, reasonable procedures and decisions.
Time Consciousness
Relatively more attention to the past and to the longer-term future.
Less interested in the past; eye on near-term future.
Ascribed vs. Achieved Status
Traditionally, a person's status in the society was based importantly on inherited characteristics such as age, gender, and family.  This is changing.
People's status is based mainly on their own achievements, including education obtained and level of success realized in their line of work.
Can anyone else add their own experiences to my little list? I sometimes wonder if some of the vehement disagreements seen on this forum are due to the differences between cultures and not necessarily one view being "right or wrong". What is "right" in one culture might be "wrong" in another and vice versa. That is why the understanding and blending of different cultures becomes more and more important over time, at least in my view.
There are currently 3 comments highlighted: 66847, 66856, 66860.
40 Responses to "Cultural Differences"
Leave a Reply