Scurrying Bao: Another Hysteria over Personal Responsibility?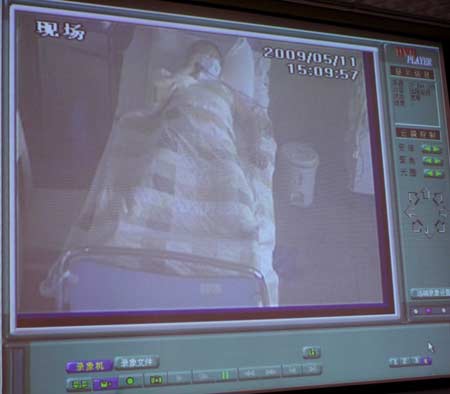 Named after
Running Fan
, an overseas Chinese student surnamed Bao has been given the moniker Scurrying Bao (包窜窜) by angry netizens for becoming the first case of H1N1 flu in China.
The story is like this:
Bao, an outstanding graduate of University of Science and Technology of China (USTC), currently studies Physics at the University of Missouri. He was going back to Sichuan to get married. On May 7, he took a flight from St. Louis to St. Paul, then to Tokyo, and finally arriving in Beijing on May 8, where he stayed one night at a hotel.

On his trans-Pacific flight he is said to have felt feverish, had some throat discomfort, and headache.
As soon as he arrived in Chengdu from Beijing he went to a hospital to get checked out. The hospital found he likely has H1N1 after some tests and assigned his case as one of probable infection.
China being deathly cautious of swine flu (even at the risk of offending Mexico) has put him in quarantine. Unfortunately for him, he is now the focal point of over-the-top netizen vitriol such as this on Tianya and Sohu:
"Sigh, why come back at this sensitive time! You brought disaster to the motherland!"
"He is missing basic morality!"
"A traitor to the nationality!!!! Who asked you to come back at this extraordinary time???? I suspect it's a conspiracy of the Western enemy forces, who want a Chinese to carry the virus back home!!! If this infection gets uncontrollable, I believe no Chinese will forgive you!!!!"
"Immoral, demonic victimizer, coming back at this time to harm people, what's so outstanding about having no social ethics. If China has an epidemic at this time, he surely wouldn't have come back. What a man, he should give a public apology to those on the same flight, at the least!"
"Who is the wife-to-be? Get a divorce quick. You can't marry this kind of man. Knowing he caught a disease, he had to hurry to get married. In doing so he put his loved one in danger. Such a selfish and greedy man. You won't be happy after marriage!"
Is Scurrying Bao a scumbag who didn't take H1N1 symptoms seriously enough? Is he an innocent man amidst people driven mad by potential pandemic? Some suggest he should have alerted his flight attendants or at least quarantined himself in Beijing. How much "responsibility" is called for in such a case and how do you assuage the demand for more?
There are currently no comments highlighted.
28 Responses to "Scurrying Bao: Another Hysteria over Personal Responsibility?"
Trackbacks
Leave a Reply