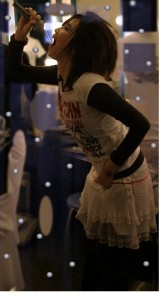 Rather than stick to just one country, I thought I'd highlight underground music from Hong Kong on this post and add a little bit from the rest of Asia on the end. On the left is the Analog Girl, one of the hottest acts on the continent. Hailing from Singapore, the electro-rock chanteuse was named by TIME magazine as one of the 5 Music Acts to Watch in 2008. Since that time she's toured the world with her unique sound.
I also got interested in the underground music scene in Hong Kong after I discovered "The Underground Channel" on YouTube.  After the jump, we'll feature videos from Quasar, Tacit Closet, Soler, The Sinister Left, DJ Matthew Veith, Hardpack, Audiotraffic and Poubelle International. We'll also hear from Jakarta's Goodnight Electric, Malaysia's Zee Avi and Beijing's P.K. 14 along with Japan's Vamp and YMCK. Finally for some of the older crowd, I want to introduce a couple of Enka style acts from Japan, which is surprisingly similar (at least to me) of some of the classic Chinese singers.
Today's collection is very eclectic so hopefully there's something for everyone to enjoy.