Asian Music Update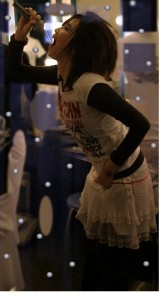 Rather than stick to just one country, I thought I'd highlight underground music from Hong Kong on this post and add a little bit from the rest of Asia on the end. On the left is the Analog Girl, one of the hottest acts on the continent. Hailing from Singapore, the electro-rock chanteuse was named by TIME magazine as one of the 5 Music Acts to Watch in 2008. Since that time she's toured the world with her unique sound.
I also got interested in the underground music scene in Hong Kong after I discovered "The Underground Channel" on YouTube.  After the jump, we'll feature videos from Quasar, Tacit Closet, Soler, The Sinister Left, DJ Matthew Veith, Hardpack, Audiotraffic and Poubelle International. We'll also hear from Jakarta's Goodnight Electric, Malaysia's Zee Avi and Beijing's P.K. 14 along with Japan's Vamp and YMCK. Finally for some of the older crowd, I want to introduce a couple of Enka style acts from Japan, which is surprisingly similar (at least to me) of some of the classic Chinese singers.
Today's collection is very eclectic so hopefully there's something for everyone to enjoy.
Let's start out with The Analog Girl at Bliss in Taipei. A pioneer in the local scene who defined the genre that is laptop rock, The Analog Girl first sprung into the international spotlight when American sportswear giant Nike featured a track from her debut self-released, self-produced album The TV Is On on their European ad campaign Changing The Game in 2005. Since then she's been touring all over the world. This song is called "All Night":

Hong Kong's Poubelle International is composed of Johan Persson, David Ericsson and Ben McCarthy. I got a kick out of this video showing older people practicing qigong in the park… well, not exactly but you'll see:

Also from Hong Kong, Audiotraffic is composed of Adrian da Silva, Don Cruz, Glenn Bogador and Ferdie Ramos. Audiotraffic actively contribute to the Hong Kong entertainments scene having co-written and performed on the soundtrack for the 2003 Eason Chan and Louis Koo film 'Naked Ambition', and appeared in Jackie Chan's 2004 film 'New Police Story'. They're straightforward indie-rock in the Brit style.

Hardpack is a fun little punk rock band from HK. They formed in 2001 so they've been on the scene for almost a decade. Give 'em a listen:

Quasar is a strange combination… four guys from Nepal, the USA, France and New Zealand that ended up in Hong Kong and put together a band. Well, being that it's Hong Kong, maybe it isn't so unusual. They're the first band I'm featuring from the Underground Channel:

Jackie, Vanilla & Dave formed Tacit Closet in 2007. Though still pretty new, they've been working the circuit, paying their dues and putting together new material. Here they are singing "Out of Tune", again on the Underground Channel:

Soler equals Julio & Dino Acconci, SiuMing & Ding. The offspring of an Italian father and Karen mother, Julio & Dino started the band in their home town of Macao. Though this song is in English, they're capable of singing in seven languages!

The Sinister Left was formed in 2005 by four expatriates in Hong Kong. Definitely alternative, they have an '80s post punk feel:

Originally from Canada, he's young but extremely talented. Check out Macao's Matthew Veith with his progressive electronica and techno tunes:

From Malaysia but recently relocated to Los Angeles after she signed on with Jack Johnson's Brushfire Records, Zee Avi has one of the clearest voices I've ever heard. She is a very, very talented acoustic musician:

Indie, Pop, New Wave… Jakarta's Goodnight Electric fits into all three categories. I've been pleasantly surprised by the vitality of Indonesia's music scene. This is one fun band:

Here's a clever video from Beijing's P.K. 14… enjoy!

If you follow J-Rock at all, you're familiar with L'arc~en~Ciel's Hyde. You'd also know K.A.Z. from Oblivion Dust. Well, they got together to form VAMPS so here's a taste of what they have to offer:

What happens when you mix cute female vocals with your old Nintendo player? You get a chiptune band named YMCK!

The last two artists perform in the Enka style of Japan. I'll start with Fuyumi Sakamoto performing a type of Japanese "country music".

Last but not least is Jero, a male Enka singer whose grandmother was Japanese and taught him both the language and this singing style. He's not what you might expect…

There are currently no comments highlighted.
15 Responses to "Asian Music Update"
Leave a Reply