Mathematics with ideological flair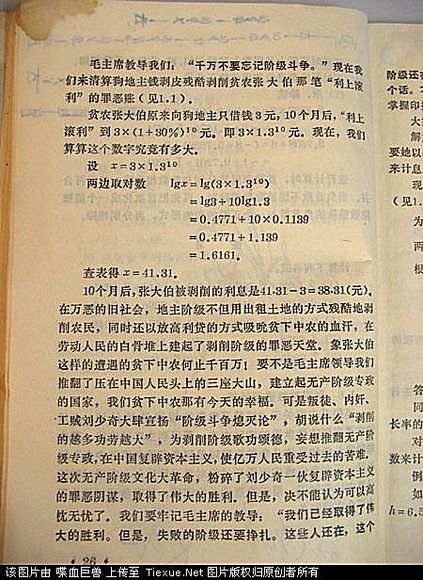 A set of book scans from the Cultural Revolution has been popular with bloggers around the internet the last few months. Here is an interesting one, a secondary school mathematics textbook that begins on this page:
Chairman Mao teaches us: "Never forget class struggle." Now we shall settle the account on how damned landlord Skinner Qian cruelly exploited peasant Uncle Zhang by his criminal "interest upon interest" scheme (See Figure 1.1).

Peasant Uncle Zhang originally borrowed only 3 Yuan from the damned landlord. After 10 months, "interest upon interest" made it 3*(1+30%)10 Yuan. Now, let's find out how big this number is.
Then it becomes a normal text, giving a simple exercise in using the log table. Turns out Uncle Zhang owed 41.31 Yuan, but there's more…

After 10 months, Uncle Zhang was exploited out of 41.31-3=38.31 Yuan worth of interest. In the evil Old China, the landlord class not only cruelly exploited farmhands by renting out land, but also sucked dry the blood and sweat of peasants by usury, and built a criminal paradise for the exploiting class on the skeletons of the working people. Peasants like Uncle Zhang numbered more than a billion! If it weren't for Chairman Mao leading us to overthrow the Three Mountains breaking the backs of the Chinese people and to build a dictatorship of the proletariat, how could we peasants have today's great fortune? But the Renegade, Traitor, and Scab Liu Shaoqi wantonly promoted the "ceasing of class struggle theory", and lied about how "more exploitation means more contribution". He sang praises for the exploiting class, wishfully dreamed of overthrowing the dictatorship of the proletariat and restoring capitalism in China, to make billions of people go back to the painful past….
You can see more of this stuff here.
There are lots of math and science textbooks like this from that time, and some are more rhetorically engaged than others. Usually there is some pro forma Mao quote at the beginning of chapters, and some aren't bad, like the popular 好好学习、天天向上 ("study well, make advancements everyday" or more amusingly "good good study, day day up"). Many people laugh and think these textbooks are totally hysterical. This shows China has come a long way. Then, upon further inspection, it has a very ironic ring to it. As the younger generation enters a competitive labor market with growing pressure to succeed in a "cruel capitalist world", there is a resurgence in neo-leftist ideology and a romanticization of the pre-Deng era, where everybody was equal (and poor). Only now the old Three Mountains of the Mao era (imperialism, feudalism, bureaucrat capitalism) are overshadowed by the modern Three Mountains of the lower- and middle-class (housing, health care, education). Interestingly, the same concerns make the same "Maoistic" politics play out even in other places (see this).
In this environment, China's new rich and connected are heavily criticized for their behavior. With a few notable exceptions, they are variously said to be above the law, wantonly lavish, and unphilanthropic. There was a report of them depositing their wealth and children abroad, because they feared populism and the rich-poor gap. It is in times of prosperity and greed that today's leaders and well-to-do should remember their social responsibility embedded in Deng's idea: it was to let some people get rich first, not to let only some get rich.
There are currently no comments highlighted.
12 Responses to "Mathematics with ideological flair"
Trackbacks
Leave a Reply