Does democracy cause fiscal irresponsibility?
Let's begin with some maps:
This is the public debt as a percentage of GDP around the world. It was posted by somebody earlier.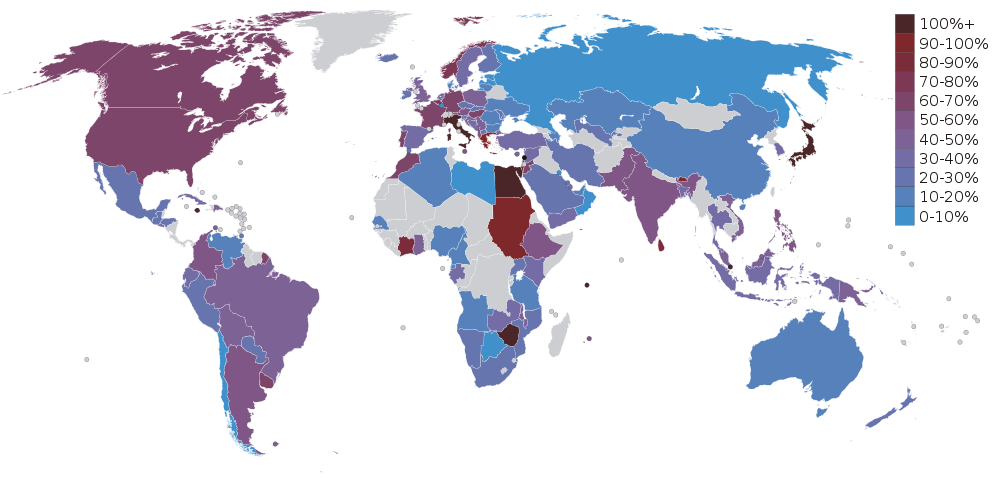 The Economist has constructed a 10-point scale "Democracy Index", where the larger the number, the higher the degree of "democracy". Lighter colors are more democratic.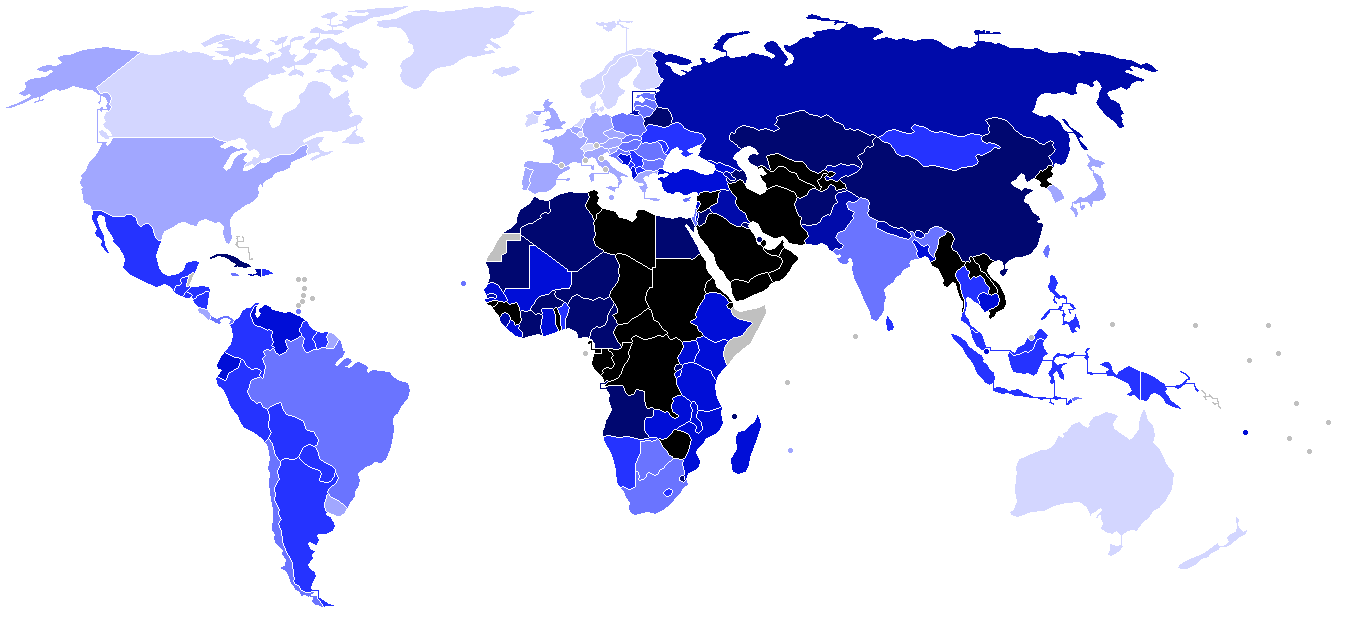 In a previous post, a discussion was opened on whether democracy scales. I argued that a direct, large-scale multi-party electoral democracy gave adverse incentives for irresponsible fiscal decisions. I put forth an argument that the electoral process devolved responsibility to people who could not make them well, and to such a degree that a bad outcome was assured. Is there something to this? Let's see.

I wrote in part:
But we can ask the question, does electoral politics make it easier or harder?

If you were competing for the next election, would you want to take away the punch bowl, or rein in the largess, or would you fail to prop up the failed enterprises? Perhaps you wouldn't want to do this, if you did not want to end your political career. Once elected, might you just institute some permanent largess or tax cutting that the other party finds politically suicidal to undo? And why would they undo it? The competitive pressure is there, the incentive is there for you to appease the most people as quickly as possible, so you appeal to the basest instincts of people, which are greed and laziness. This never works out well in the long run.
I also made other arguments regarding adverse incentives in a multi-party electoral democracy for engaging the electorate to seek a bigger mandate against compromise on difficult decisions, which is the opposite of what should happen. However, I focus on economic matters in this post.
Wukailong Says:
I tend to think about things this way: if you have a general problem (say, economic depression) and can link all or an overwhelming majority of it to a cause (say, democracy), then you have a strong case. I don't see how fiscal irresponsibility as such can be linked to democracy as a system, because then we should be seeing failed economies all over Europe and the rest of the Western world (and with failed I do not mean economies that are affected by the crisis, but weren't a cause of it), and strong economies in China and other authoritarian systems. Do I need to provide stats to show that there is no such simple correlation?
Now, when I made the claims, it was all a hunch, but at Wukailong's suggestion, I got curious enough to look more carefully. I will now address this by posting a few images and my interpretations. You should also look at the data and give your thoughts.

First a note on the Democracy Index. It is based on these criteria so it's an inexact proxy for what I'm interested in, but we live with what we have:
"Whether national elections are free and fair";
"The security of voters";
"The influence of foreign powers on government";
"The capability of the civil servants to implement policies".
For example, 8-10 is considered "full democracy".
We can similarly collect data on the GDP, tax per unit of GDP, per capita GNI, and population of countries. I did this for 123 countries for which all data was available. The majority of countries left out are very small island states.
---
Now, four graphs. Let's start with one that's not immediately relevant but one that people may be interested in.
Here is a graph of the degree of democracy plotted against average income per person in a country. Income is on a log scale. The red points are countries with more than 50 million people. The red circles are among the 10 most populous countries in the world. There is a definite bifurcation here. There appears to be two models of development. One, a high level of democracy with a high level of personal income. The other, a low level of democracy with high income. The only countries that are poor, are those that fall into "flawed democracies" or "hybrid regimes."
---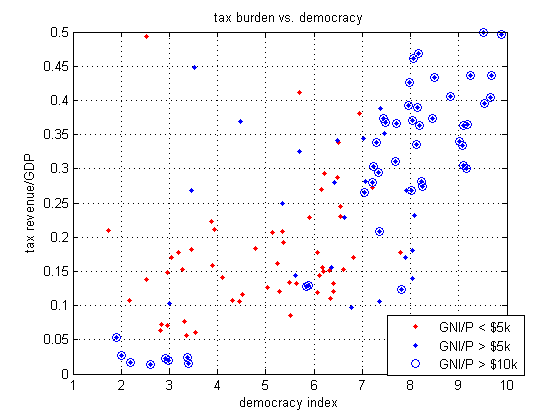 This shows a country's tax revenue as a percentage of its GDP, which is a way to measure the tax burden in a country. The data points are further categorized by per capita income. The trend is clear. The more democracy there is, the higher the tax burden. This is seen across all income levels, especially among high income countries.
---
Here is a graph of public debt to GDP. It is the debt burden of a country. It shows how many years a country has to work (at current levels) to pay off its public debt. The debt/GDP ratio is on a log-scale, so from -1 to 0 would mean a debt burden ten times as high. There is a statistically significant positive correlation between more democracy and more debt burden. The correlation becomes larger and stronger for countries with larger population.
---
Finally, it may be that the higher taxes collected by highly democratic countries are used to pay its higher debt, so it is possible that they are not as irresponsible as we thought (although remember, there is a limit, since you cannot collect more than 100% of your GDP as tax). To see if it's true, we have this graph, which shows the ratio of public debt to tax revenue. This is the number of years it would take to pay off the debt if all tax collection went towards debt service. Again it's on a log scale. This is harder to interpret, but perhaps it stands for how realistic and accountable a country is with regard to its debt load.
Here there is a difference in behavior between large and small countries. For smaller countries, the more democratic, the more fiscally accountable they are (smaller debt to tax ratio). For larger countries, however, increasing democracy does not increase accountability. Another way to look at this is: there are no large, fiscally sound democratic countries.
Discuss away.
There are currently 8 comments highlighted: 68086, 68097, 68133, 68165, 68167, 68171, 68173, 68205.
126 Responses to "Does democracy cause fiscal irresponsibility?"
Leave a Reply