Issues with India/China Relations
Written by Steve on Wednesday, June 23rd, 2010 at 2:31 am
Filed under:Analysis, General, politics | Tags:China, dalai lama, government, history, india, nationalism, politics, tibet

Add comments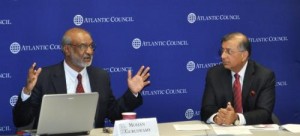 I came across two articles recently, both concerning India/China relations but one written from the Chinese point of view while the other was written from the Indian side. I thought it might be interesting to compare the two viewpoints to see just how far apart they really are.
The first article is from the China Daily while the other is from an Atlantic Council forum. The China Daily article feels there are 'three gnawing issues', as they put it. The Indian side looks at it historically, politically and diplomatically. They are both short so I'll include them in their entirety.
By Wang Hui ( chinadaily.com.cn)
Updated: 2010-04-09 14:44
This year marks the 60th anniversary of the establishment of diplomatic ties between India and China. Amid a series of exchanges of high-level congratulations and visits, news from the economic front is also exciting: The first two months of the year saw a 55 percent increase in bilateral trade as compared to 2009. All this seems to show that the relationship between the world's two most populous countries is faring well and will grow even stronger.
Behind this promising picture, however, a few gnawing issues are still standing in the way between the two titans. If not handled properly, the road ahead for them would not be as smooth as expected.
First, China and India share about 2,000 kilometers of border, and the boundary has never been formally delineated. The famous poet Robert Frost said in a well-known poem that "Good fences make good neighbors." Many confrontations between countries have been ignited by disputes in their border area. The two sides should quicken their steps on demarcation consultations that began in the 1980s.
Second, as China gains an increasing sphere of influence in the world arena, many Indians, including high-ranking officials, see China as a potential rival or even a threat to India. This may partly explain why India has yet to recognize China's market economy status, while over 60 countries have granted such status to China. Such anti-China sentiments will not help cultivate a friendly atmosphere for bilateral ties to grow, but rather sow the seeds of distrust between the two countries.
Third, India has always harbored a grudge over China's all-weather friendship with Pakistan. The China-Pakistan relationship is based on mutual trust and mutual support in nation building and international cooperation. To maintain a peaceful external environment, China also wants to build closer ties with India. If China could become a mutual friend to the two Asian rivals, it will contribute more to regional peace and stability. This will eventually serve India's interests as well.
To address these issues, the Indian side needs to show real sincerity in forging a more friendly relationship with China. An "Asia century" will remain only a dream until the two Asian giants can treat each other with mutual trust and respect.
January 25, 2010
Event Summary:
The Atlantic Council recently hosted Mr. Mohan Guruswamy, South Asia Center Nonresident Senior Fellow and Chairman of New Delhi's Centre for Policy Alternatives. In his talk, he addressed the deep-seated rivalry between two Asian powerhouses, India and China, and the factors contributing to the exacerbation of the issue. He also discussed the future of the India-China relationship – where it is headed and what it could possibly bring on both regional and international scales.
Mr. Guruswamy first explored the India-China relationship through a historical lens, pointing out that the relations between these two neighbors have always been tenuous, riddled with contentious border issues and territorial claims, and made even more muddled by the lack of a clear historical record demarcating the borders. He indicated that the burgeoning border disputes, partly a result of the British Raj's lack of setting clear borders, were exacerbated by China's occupation of Lassa in 1962 and then by India's retaliatory occupation of the Tawang region. Attempts to resolve these border issues – from China's package deal offer in 1986 to their revised proposal in 1988 – have proved unsuccessful, and now neither country is willing to further negotiate on their dispute.
In today's political context, Guruswamy observed, these two neighbors still show an unrelenting rivalry. China's fears regarding India, such as their belief that India is a part of the US' plan to encircle their country (a claim which China feels is "evidenced" by the US-India Civilian Nuclear Agreement) encourages China's desire to "trip" India before the military asymmetry will begin to close. Further adding to the preexisting distrust between the two countries is India's economic growth, specifically as China's GDP growth rate is expected to decline in the recent future while India's is supposed to steadily increase. Other political factors that continue to deepen the India – China divide is the issue of Tibet.  Ever since India granted political asylum to the Dalai Lama, China has accused India of being pro Tibet (despite India's acknowledgement of Tibet as a Chinese territory). There is also what Guruswamy calls 'the coming crisis of the Dalai Lamas', where two Dalai Lamas will rise (one from Dharamsala and one from Tibet) to succeed upon the passing of the current Dalai Lama which will further create tension regarding this issue. The political stability of other key regional countries – such as Afghanistan, Pakistan and Myanmar – all have the potential to impact India-China relations as well.
Indian interests in respect to China in the long-run include the following key concepts: avoiding an arms race with China, avoiding entanglement in the US-China rivalry, and avoiding being kept in check by China. India's aim for the future, Guruswamy asserted, is to "walk softly but carry a big enough stick to keep the dragon at bay".
The question and answer session following the discussion addressed several topics, most importantly, India's developing relationship with key strategic countries Russia, the US and China. In respect to recent Indo-Chinese cooperation (specifically at the Copenhagen Conference on Climate Change), Guruswamy noted that while they were rivals, they were not enemies, and that "they knew how to work together with common interests in mind". To reassert his point, Guruswamy exemplified their burgeoning trade relationship, and the potential for the two countries to work together on a number of key security issues, such as terrorism and drug trafficking.
More on Mohan Guruswamy:
Guruswamy heads the Center for Policy Alternatives in New Delhi, an independent think tank that focuses on critical policy issues and whose studies are disseminated to India's political, administrative and media leaders.  Prior to working at CPAS, Mr. Guruswamy was Advisor to the Finance Minister with the rank of Secretary to the Government of India.
His diverse career path also includes teaching, senior management and journalism.  He is a frequent television commentator on matters of current interest and writes a widely read and disseminated column. Guruswamy has authored several books on policy issues, the latest being The Looming Crisis in India's Agriculture; India China Relations: The Border Issue and Beyond; and Chasing the Dragon: Will India Catch-Up with China?.
Let's examine both viewpoints. The China Daily article's points are:
Border issues
Geopolitical threat
China/Pakistan relationship
The Indian article stresses:
Border issues
China's fears of encirclement
India's increasing economic growth
Tibet issues
Political stability of Afghanistan, Pakistan & Myanmar
Potential arms race
Indian neutrality vis a vis the China/USA relationship
China putting limits on Indian growth
Do you feel this covers all the issues facing the two growing world powers? Do you agree or disagree with the list of issues? Can you add others? What do you feel is the best approach for the two countries to take in the coming years to settle the issues fairly and equitably? Is this a win/lose  or win/win game between the two?
There are currently 3 comments highlighted: 69188, 69196, 69220.
88 Responses to "Issues with India/China Relations"
Leave a Reply