Across the seas: an iPad's "gray" voyage
A shopper looks over an iPad at an Apple Store.
Apple was elated that iPads sold briskly. Then they fretted when they sold out. Apple continues to experience supply shortages, just like with the iPhone release. Where have all the iPads gone? It turns out the iPads are not just made in Chinese factories, but even their distribution is re-routed by networks of Chinese people.
A CBN Weekly (第一财经周刊) feature examines the intricate gray market for iPads, and the role of overseas Chinese in this informal logistics chain.

By Xie Leining and Lei Jingshu
"The iPad is here." Ads from Apple are proclaiming in the United States. But they are false.
On April 21 reckoned by local time, the Apple Store in the busy Northpark Shopping Center here in Dallas has not sold a single iPad for a week. The same at a store five miles north of here. Go further some ten miles and it is still the same.
In each of these stores, a dozen display iPads are put on the big tables near the entrance. Then after you've experienced the smooth operation of the 9.7″ touch screen and the rich content, including music and videos from iTunes, book readers, AppStore, email and social web functions, and office software, and you've satisfied yourself and ready to pay up, the store associate will tell you they are out of stock. And they don't know when more will arrive.
On the same day, Bill Jordan picked up his pre-ordered iPad from a Colorado Apple Store. Just as he walked out and put the iPad into his shopping bag, two robbers appeared behind him and grabbed the bag from him. Though the 59-year-old fought them, his bag was still taken from him and he got his finger injured. The local police found the surveillance video and the Apple Store are cooperating with police, saying they record the serial number on every iPad sold.
Either these were two technology-loving robbers, or the iPad is a really hot item. More and more we are led to believe the latter is true.
Mose is a professional scalper. He buys products from regular retail channels, then sells them to designated hoarders. His most recent target is the iPad. Lots of iPads. Just two days ago, he went to two stores and swept four iPads. The second day he went to four stores but only got two. And, the Apple Store refused the use of cash and gift cards. If a customer's credit card information showed he had already purchased two or more iPads, then the store would not sell him another one no matter what. You could go to Best Buy to circumvent Apple's control and sweep one or two per store per day. But most of them have already been swept up. If you go to Apple's store online, the earliest you can get them is ten days later.
So at this time the news at every store is, there will be no stock this weekend.
Where have all the iPads gone?
Beside asking Apple's supplier, you could also go to a place like "MITBBS" to find your answer. This is one of the largest and most popular overseas Chinese forums in the United States, with 20 thousand people regularly logged on. "Fleamarket" is one of the several hundred forum boards. The main topic of discussion is how to use various tactics to obtain electronic products from the retail distribution channel. It works like this. There are two job titles, "Superdoctors" and "Nurses." A Superdoctor is the equivalent of a redistribution point or somebody with access to professional distribution channels. Behind them are usually import/export companies. A Nurse, on the other hand, is somebody like Mose, who is responsible for sweeping retail and online stores for products to sell to Superdoctors. According to an experienced Nurse named Galvin, a "Healthcare Team" headed by about ten Superdoctors and their Nurses managed to hoard more than 30,000 iPads within three weeks of iPad's release.
We begin on April 16. This was the second Friday after the iPad's release in the US. At 12:26 Eastern time, reknowned Superdoctor RL posted a buy bid on the "fleamarket" board of MITBBS for eleven 16G iPads, at $620 each, postage paid.
The "gray" voyage of an iPad (16G Wi-Fi)
First Leg: Apple's authorized reseller
Agent: Professional scalper
Purchase Price: $540
Second Leg: US to Hong Kong
Agent: Hoarder and import/export company
Purchase Price: $575-$620
Third Leg: Hong Kong to Shenzhen
Agent: Courier
Cost: $75-$90
Fourth Leg: Shenzhen to other cities
Agent: Distributor
Final Price: $700-$730
At this time, the buy price for the 16G Wi-Fi version of the iPad had already gone up by $100 from a week before. A "retired" Superdoctor named Yang tells us that the gray market price of the iPad remained stable in the first week. Experienced Superdoctors and Nurses had already hoarded what they believed was a sufficient quantity as early as March 12, when Apple began taking pre-orders. Apple Stores and Best Buy had stock and the sales staff had not begun to police the quantity limit on iPad purchases. Even though demand in large US cities exceeded expectation, they had hoarded enough iPads for delivery. So in the first week, Nurses bought iPads from stores for $540, saved them up, and flipped them to the Superdoctors for a $5 spread.
So, when RL posted a bid for $620 on April 16, it meant a $120 profit for any Nurse living in a tax-free state such as Oregon or Delaware. Even to Nurses facing a 8.25% or 9% sales tax, profitting $70 or $80 from flipping an iPad was a swell trade. It may have exceeded the per-unit profit made by the Superdoctors.
This trade had little risk, so long as they strictly executed their agreed protocol: Superdoctors paid Nurses via PayPal while providing shipping information. Then UPS or FedEx picked up the packages from the Nurses' homes.
On April 21, the market prices for the 16G/32G/64G iPads had stabilized on the "fleamarket" board at $620/$720/$820. Suppliers filled several pages worth of information. The place was like a busy bazaar. Some uninvolved people temporarily took up the Nurse trade and put their one or two iPads up for sale; some were used. A user named "fairprice" jokingly began selling call options for the following Monday. His post was shut for not being in compliance with exchange rules.
A Nurse called "Igamble" posted a photo titled "stashing corner" to show the quantity of his iPads. Soon he was cornered by several big Superdoctors. They shoved him around ten thousand dollars in exchange for his entire stash. "Nurses set their sights too low. We're not meant to make big money," he lamented. He figured the price of the 64G iPad would eventually rise to $900. Because there were true visionaries on the board: in 2009, speculators drove the price of an $8 toy called the Zhu Zhu Pet to $45.
But reality would soon show that the iPad was not to be another Zhu Zhu Pet. The price of the $499-MSRP 16G iPad reached a market peak at $620. After the weekend, Nurses and Superdoctors would be taking shipment of their iPad pre-orders placed ten days ago on Apple's online store. Some Apple Stores were also getting new stock on April 20. Though not enough to sate the demand of all passing shoppers, it was sufficient to fill pre-orders. Of course, many of these pre-orders were made by professional Nurses. The most informed Superdoctors began limiting buy prices to $575/$675/$750 and putting up minimum quantity requirements.
These hoarded iPads would then take a trip across the seas, going to markets where Apple had not officially released iPads. China is one of them.
Chinese users got to know Apple products later than other markets. But since China has a prosperous gray market, they have found numerous ways to get them. By using a foreign credit card or iTunes points, they even got access to iTunes or AppStore. According to Apple's official estimate, before Apple and China Unicom released the iPhone last year, there were already millions of people in China using this handset.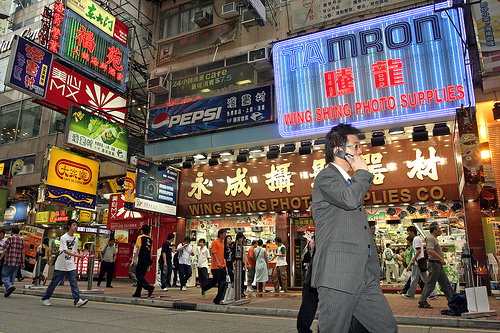 The Mong Kok district in Hong Kong is one of Asia's largest redistribution points for gray market electronics. On April 20, iPads were the hot item, and every electronics stall had iPads on display. At Sin Tat Plaza, the price tag for 16G iPad was between HK$5000 to HK$5180 (about $644 to $667). This was a drop of HK$300 to HK$400 from a week before. As smugglers continue to carry their luggage into the mainland, the price may drop further still. Compared to Beijing, Shanghai, or Guangzhou, Hong Kong remains the best place to shop for gray market goods.
On the evening of April 21, at the Pacific Computer City in Shanghai's Xujiahui district, Tang Yong was ready to sell a 32G iPad for 5800 Yuan ($853). A 16G iPad sold for 4800 Yuan ($706). The iPads coming into these markets arrive from the US in Hong Kong, make their way into Shenzhen via the Luohu Customs point, then flow into other cities. Since the customs clearing fee and the risk of being caught are low at Luohu, this is the frequently used entry-point for gray market electronics into China.
Tang Yong makes about 100 Yuan from this 32G iPad. The 5800 Yuan sale price includes mark-ups for using the special purchasing channel, sales tax, cost of shipping, and customs clearing fees. Compared with his initial sales on April 10, his profit had already dropped by 100 Yuan per iPad from increasing competition.
Tang Yong also has a store on TaoBao (China's eBay equivalent). Like many who flocked to ply the iPad trade on TaoBao, he made sure to write "Professional Overseas Orders" on his ads. In truth, these professional orders are filled by big and small Superdoctors on MITBBS.
He is an avid Apple fan. His cellphone, notebook, are all from that company known for its closed-loop control. Several years ago he became Apple's authorized reseller in China. He also sells iPhones and MacBooks at his store. But many Apple resellers are also selling gray market iPads behind the counter, because "everybody is."
On January 17, he waited all night for the iPad announcement. Just like he predicted, this little LED-backlit touch-screen wonder attracted the attention of many Apple customers who had bought from his store. Every day somebody called to ask about iPad's release in China. Customers were already impatient by February. In the month afterwards, Tang Yong took paid orders from more than 30 customers. They all wanted the iPad.
In the months since iPad's announcement, TaoBao filled 70 pages worth of merchants taking orders. Initially, few products made it here. At a Zhongguancun brick-and-mortar store, a 16G iPad sold for 7000 Yuan ($1029) at one point. But a week later, as more supply arrived, the price quickly slid. Now, no matter on TaoBao or on MacHome, an Apple user forum, a 16G iPad has a stable price between 4500 Yuan and 4800 Yuan.
There is another subtle point. Every distribution terminal like Tang Yong operates in a black box. When they import from Superdoctors, they get different prices and don't know what others paid. They differ depending on the import quantity, reputation, and relationship with the Superdoctors. Tang Yong relies on his market experience and his own judgement to decide the price of import. In half a month, he personally sold about 20 iPads.
"The future price is hard to say," said Tang Yong. According to upstream sources, Apple may implement strict purchasing limits beginning May. It looks like Apple is bent on satisfying US demand first, and preventing the outflow of supplies from the US. It is pushing back the iPad release date for other countries beyond May.
Before China Unicom's iPhone entered the Chinese market, gray market iPhones had already taken half the market. The same story may play out with the iPad. At least Apple is quickening its pace by announcing the opening of 25 additional Apple Stores in China within two years. Unofficial sources also say that official iPads will be sold in China after May, in step with other markets.
Apple needs to hurry now.
(Tang Yong's name has been changed)
Contact: liyang@1cbn.com
There are currently no comments highlighted.
10 Responses to "Across the seas: an iPad's "gray" voyage"
Trackbacks
Leave a Reply