(Guest Post) A country's hurt feelings
Chinese Foreign Ministry recently described French President Sarkozy's meeting with the Dalai Lama as
an act that would "gravely hurt the feelings of the Chinese people".
It is the kind of phrase you are looking for in every Chinese official indignation – ok, feelings hurt, this isn't something good. However, this is the first time I actually didn't let it just pass, and asked myself: what does this phrase actually mean? Sure some countries have hurt our feelings, so what? You expect an apology or something else from the other side to compensate your "hurt feelings"?
Driven purely by my own interest, I've spent few hours to find out how many countries that have hurt the "Feelings of Chinese People" since the founding of the PRC. Here's the map of all the "culprits" (you probably have already seen it somewhere else).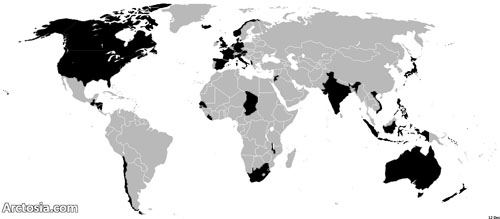 To be on this map, a country must have been clearly pointed by state media or representatives of the Chinese government to hurt the feelings of the Chinese People. Below is the list, and the exact citation can be seen in my blog.
* Europe (12): Vatican City, UK, France, Germany, The Netherlands, Italy, Spain, The Czech Republic, Norway, Denmark, Slovenia, Albania
* North America (2): USA, Canada
* Central America (6): Guatemala, Grenada, Saint Lucia, Saint Vincent and the Grenadines, Honduras, Nicaragua
* South America (1): Chile
* Oceania (4): New Zealand, Solomon Islands, Nauru, Marshall Islands
* Africa (9): Chad, Malawi, Burkina Faso, Swaziland, São Tomé and Príncipe, Gambia, Liberia, Senegal, South Africa
* Asia (9): Japan, Singapore, Vietnam, Philippines, Indonesia, India, Jordan, (disputed: Cambodia, Laos)
It wasn't just a pointless internet research to kill some time, I got many previously unknown facts to me out of it. The biggest "feeling hurter" of Chinese people's feelings for the last century, which is Russia in my opinion, is not on the map, despite the fact that it has accommodated the Dalai Lama's visits before. The phrase was never used on Russia even in the worst times between the two countries.
Instead, it's the countries like Nauru or St Lucia, which most ordinary Chinese would have great difficulty of finding them on a world map that have hurt the "Chinese people's feelings". It was also discovered that meet the Dalai Lama does not necessarily "hurt Chinese People's feelings". It is highly circumstantial – Sarkozy suffered a storm of Chinese criticisms for having a conversation with the Dalai Lama; but the Polish president did that too, and hosted the Sarkozy – Dalai Lama meeting on Polish soil, and yet still got away with it.
Compare to that, Iceland and Jordan, hurt Chinese people's feeling by allowing the visit of former vice president of Republic of China Lien Chan in the late 90s. Needless to say, he later turned out to be an "old and great friend" of Hu's.
The reflections of my findings I gathered from China-related blogsphere were surprisingly diverse,  I was hoping that my fellow countrymen would form their own opinion on the following four questions:
* Did those countries really hurt their feelings?
* Why more than 1/5 of the world are such "culprits"?
* Is there any country that had genuinely hurt their feelings not on the map?
* Or is there something wrong with that kind of diplomatic expression?
However, as long as my fellow countrymen start to think themselves rather than just follow what's being said in
the People's Daily or the Global Times, then I'm happy that my effort is worth something.
Most people seem to agree with me on the fact that the vast majority of the "hurt feelings" incidents happened after 1970s is as the result of China opening up itself to the world  – the famous economic reform(改革开放)started in 1978 by Deng Xiaoping.
However, some attributed that to Mao's death in 1976, suggesting that his departure left Chinese people's feelings unprotected and vulnerable to the outside world , and the economic reform has severely undermined the interests of ordinary Chinese people.
Some Chinese netizens were equally surprised as myself to discover that countries like Australia, South Korea or Russia were not the map. Equally, other people were surprised to find countries like Albania ("the only shining beckon of communism in the sea of Soviet revisionism/Capitalist Europe? [I'm not quite sure]") in the list. What do these facts mean is up to their own interpretation.
It also raised discussions about the phrase "hurt Chinese people's feelings" itself. I always regarded it as a very absurd and childish thing to say on the diplomatic stage. Countries don't hurt each other's feelings – they speak with 'carrot and stick'(at least for now). You don't say somebody hurts your feelings when he attacked you with a stick, you either fight back (… well, if you are powerful enough) or just get over with it. Put yourself in a 'weak' position and make yourself sounds like the "justified" side does not do anything good but only fuels unhealthy hate and revenge thoughts among the general public as people discover that crying for "hurt feelings" won't solve anything.
And even worse, repeated use of the phrase diminishes the power of the "real" feelings of the Chinese people. The value of Chinese people's feelings deflates every time the phrase is being used – it looks less important in the foreign eyes as the feelings can be "hurt" repeatedly with no apparent consequences.
There are people who do feel that their feelings have been genuinely hurt by the countries I listed, and made a good use of my map by keeping it for future "revenge".
However, for most of the Chinese who remain apolitical for most of the their life, the expression is just something demonstrating the total disconnect between the State's affairs and real people's life. What's the point to care who's been hurting me lately? I don't run the country, and I never had a say on anything even regarding of my own feelings.
What do you think? Any different thoughts? I would love to hear it from you.
(Note: As I understand, my original post has resulted a lot of discussions in China-related blogsphere. I was even invited by the admin to be a regular contributor of this great blog – something I don't think I deserve because of my appalling written English skills.
However, I would love to contribute a guest post discussing the reactions to my original post and try my best to explain them. )
There are currently 10 comments highlighted: 23333, 23421, 23431, 23440, 23489, 23502, 23796, 23810, 23818, 23896.
130 Responses to "(Guest Post) A country's hurt feelings"
Trackbacks
Leave a Reply